Making informed decisions through greater knowledge
Talking with your doctor can help you become your own best advocate
The more information your doctor has about your recurrent prostate cancer, the more personalized your treatment plan can be.
 
Ask your doctor if an Axumin scan is right for you. Your healthcare team can use the results from the Axumin scan, along with other tests, to help them find your recurrent prostate cancer and create a personalized treatment plan for your cancer.
Download the doctor discussion guide to help guide your conversation with your doctor at your next appointment.

Download Discussion Guide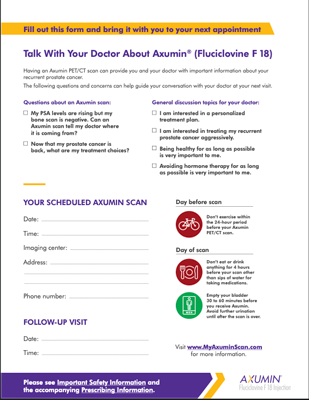 Preparing for your Axumin PET/CT scan

Preparing for your PET/CT scan
You'll get an IV of saline (salt water) before your Axumin injection to check if the IV has been properly inserted and after Axumin to make sure you received the full dose
The scan is painless and lasts 20 to 30 minutes. You will have to lie as still as possible on the scanner bed, but you can breathe normally. If you feel any discomfort, be sure to tell a staff member immediately
The bed will move slowly through the PET/CT scanner opening. A nurse or technologist will be there to assist you or provide any additional instructions
In clinical trials that looked at the safety of Axumin, reported side effects were uncommon. They included redness and pain at the injection site and an unusual taste in the mouth.