Key Findings From the LOCATE Trial
LOCATE study design
A prospective, US, multicenter, open-label study investigating the impact of Axumin® (fluciclovine F 18) PET/CT imaging on patient management of biologically recurrent prostate cancer after initial prostate cancer treatment and after negative or equivocal findings on standard-of-care imaging.1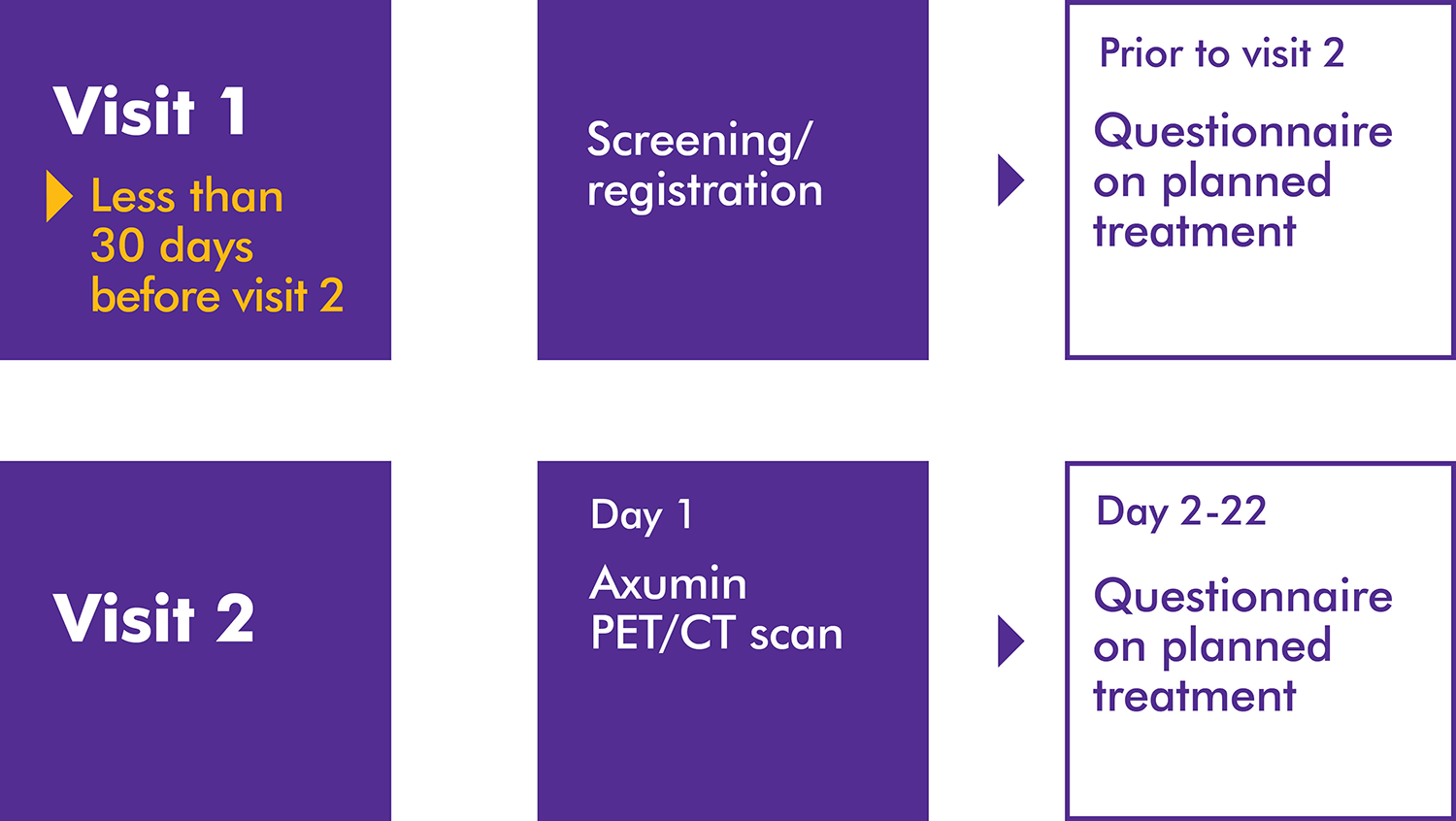 Primary endpoint: The percentage of men with biochemical recurrence of prostate cancer following initial prior therapy whose clinical management was changed following an Axumin PET/CT scan as recorded by completed form stating their intended management before and after the scan, with any changes recorded.1
---
Patient Demographics1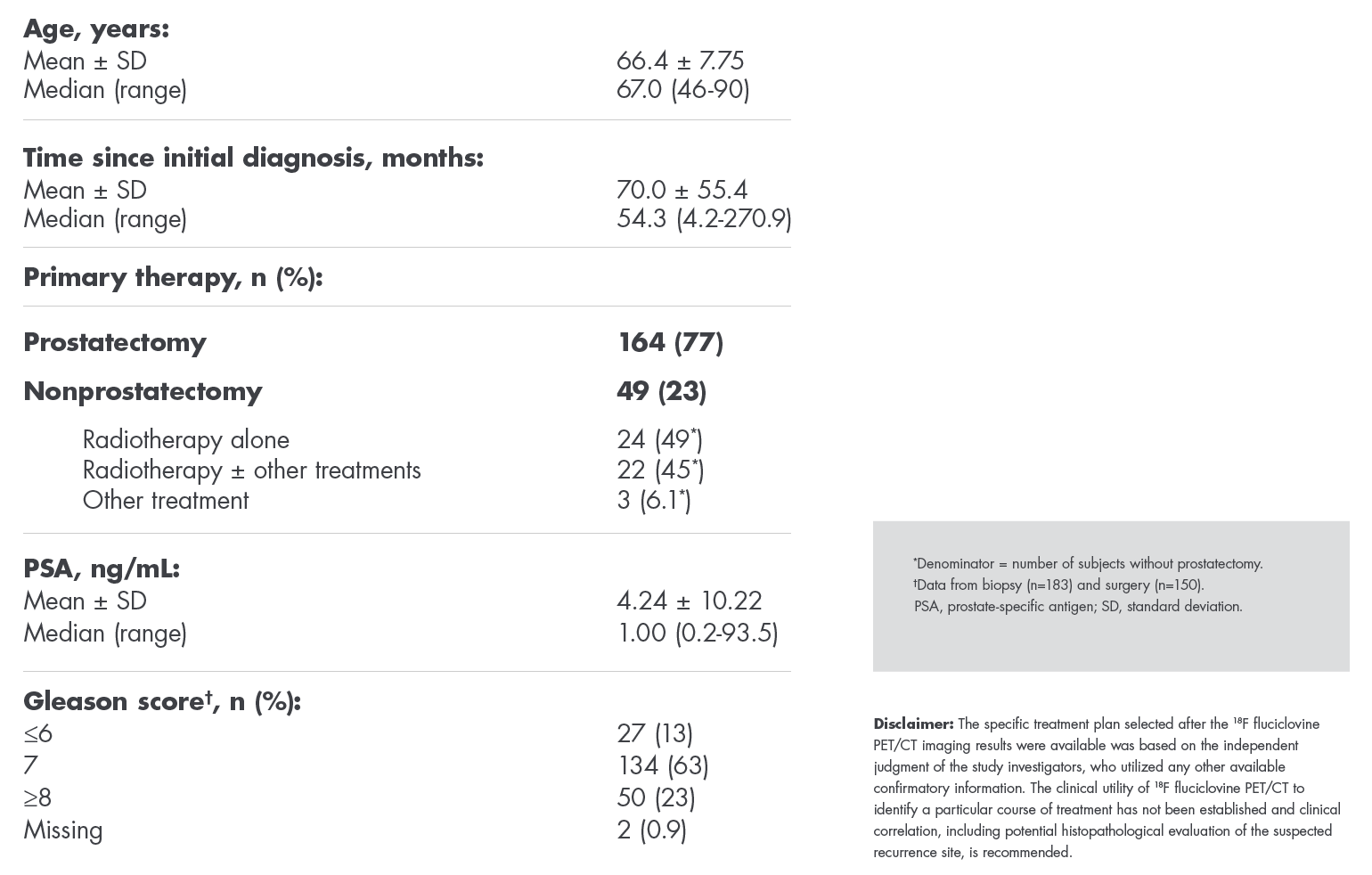 ---
Changes in approach for majority of patients
Overall change in management1
When presented with a negative or an equivocal scan, Axumin provides clarity for your decision-making1
---
Changes seen across all management options
Change in approach based on results of Axumin scan1
---
Change in intended treatment1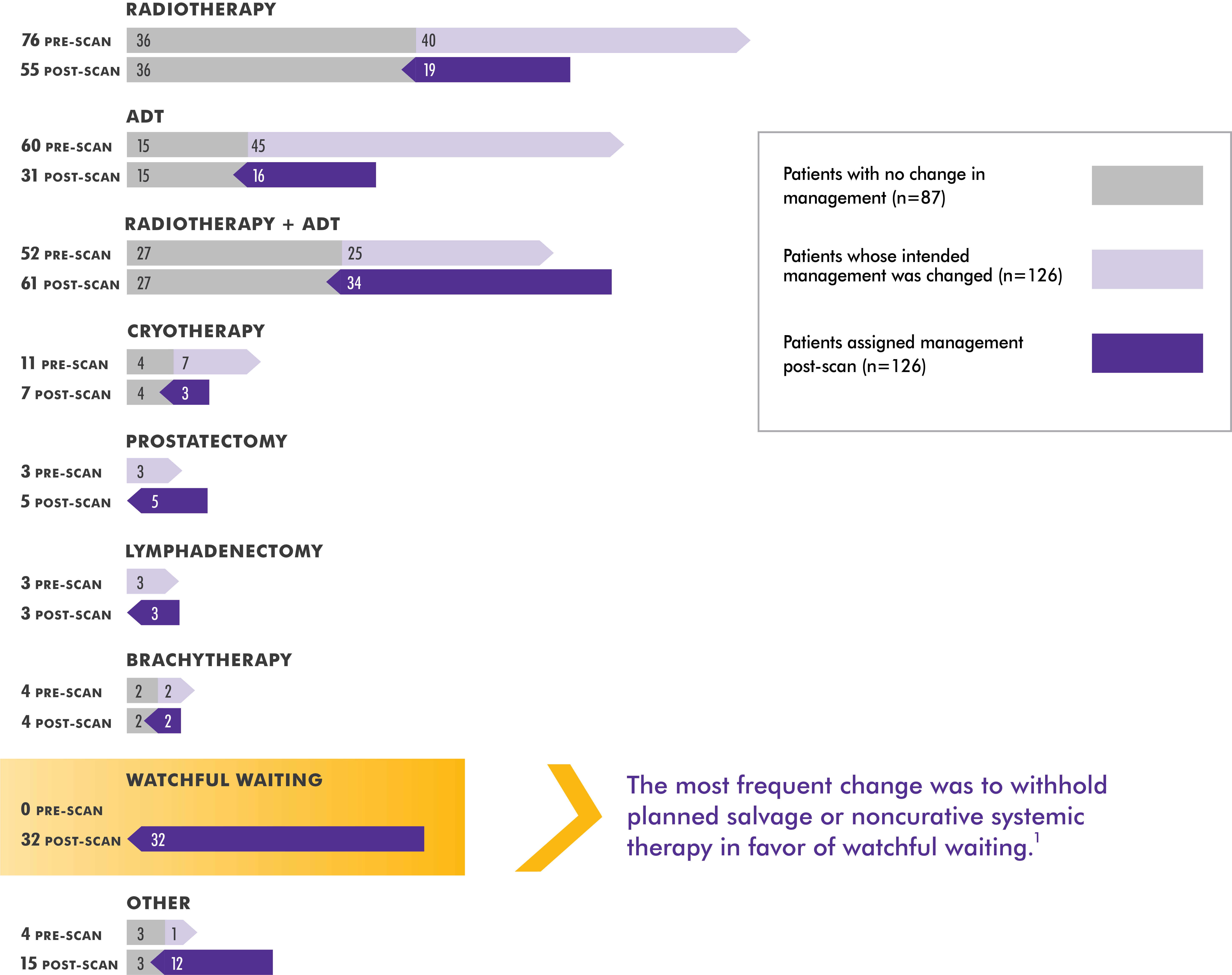 The specific treatment plan selected after the Axumin PET/CT imaging results were available was based on the independent judgment of the study investigators, who utilized any other available confirmatory information. The clinical utility of Axumin PET/CT to identify a particular course of treatment has not been established and clinical correlation, including potential histopathological evaluation of the suspected recurrence site, is recommended.
---
Axumin detected cancer lesions even when PSA levels were ≤1.0 ng/mL
Detection rate increased as PSA level rose
Axumin-avid lesions were detected in 57% of patients (122/213) who had a negative equivocal finding on standard-of-care imaging, with 30% seen in the prostate or prostate bed and 38% outside (including 29% in lymph nodes, 2.3% soft tissues, and 11% bone).1
LOCATE Safety Data Consistent With Axumin Prescribing Information2
The safety profile of Axumin in the LOCATE trial was consistent with that described in the approved US Prescribing Information.
References:
Andriole GL, Kostakoglu L, Chau A, et al. The impact of positron emission tomography with 18F-Fluciclovine on the management of patients with biochemical recurrence of prostate cancer: results from the LOCATE trial. J Urol. 2019;201(2):322-331.
Data on file. Blue Earth Diagnostics, Ltd. Oxford, UK.