Safety data supporting registration
From industry-sponsored trials1,2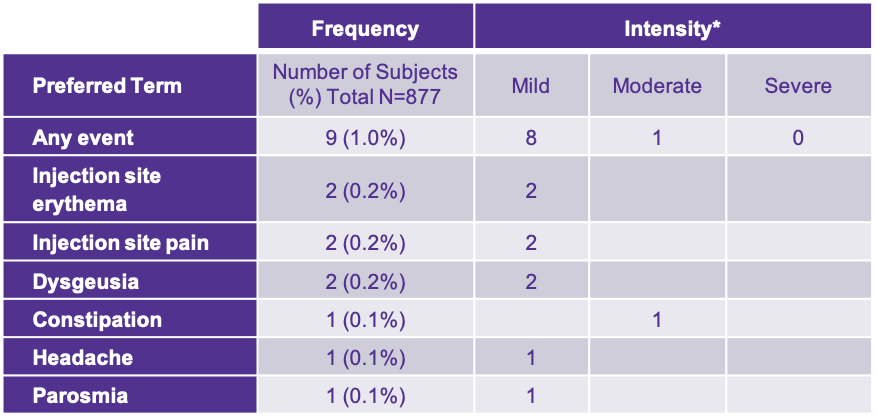 *As assessed by investigator and reported in 18F-fluciclovine NDA. 
Axumin has no contraindications1
No overall differences in safety or effectiveness were observed between older adults and younger subjects.1
Adverse reactions were reported in ≤1% of subjects during clinical studies with Axumin. The most common adverse reactions were injection site pain, injection site erythema, and dysgeusia (abnormal sense of taste).1
To report suspected adverse reactions to Axumin, call 1-855-AXUMIN1 (1-855-298-6461) or contact FDA at 1-800-FDA-1088 or www.fda.gov/medwatch.
Image interpretation errors can occur1
A negative image does not rule out the presence of recurrent prostate cancer and a positive image does not confirm the presence of recurrent prostate cancer. The performance of Axumin seems to be affected by PSA levels. Fluciclovine F 18 uptake is not specific for prostate cancer and may occur with other types of cancer and benign prostatic hypertrophy in primary prostate cancer. Clinical correlation, which may include histopathological evaluation of the suspected recurrence site, is recommended.1
References:
Axumin [package insert]. Oxford, UK: Blue Earth Diagnostics Ltd; May 2021.
Data on file. Blue Earth Diagnostics, Ltd. Oxford, UK.