Detection of recurrent prostate cancer, in a single visit
Axumin® (fluciclovine F 18) injection: Image Acquisition Timeline1
Start scanning in just 3-5 minutes. Total scan time is typically 20-30 minutes.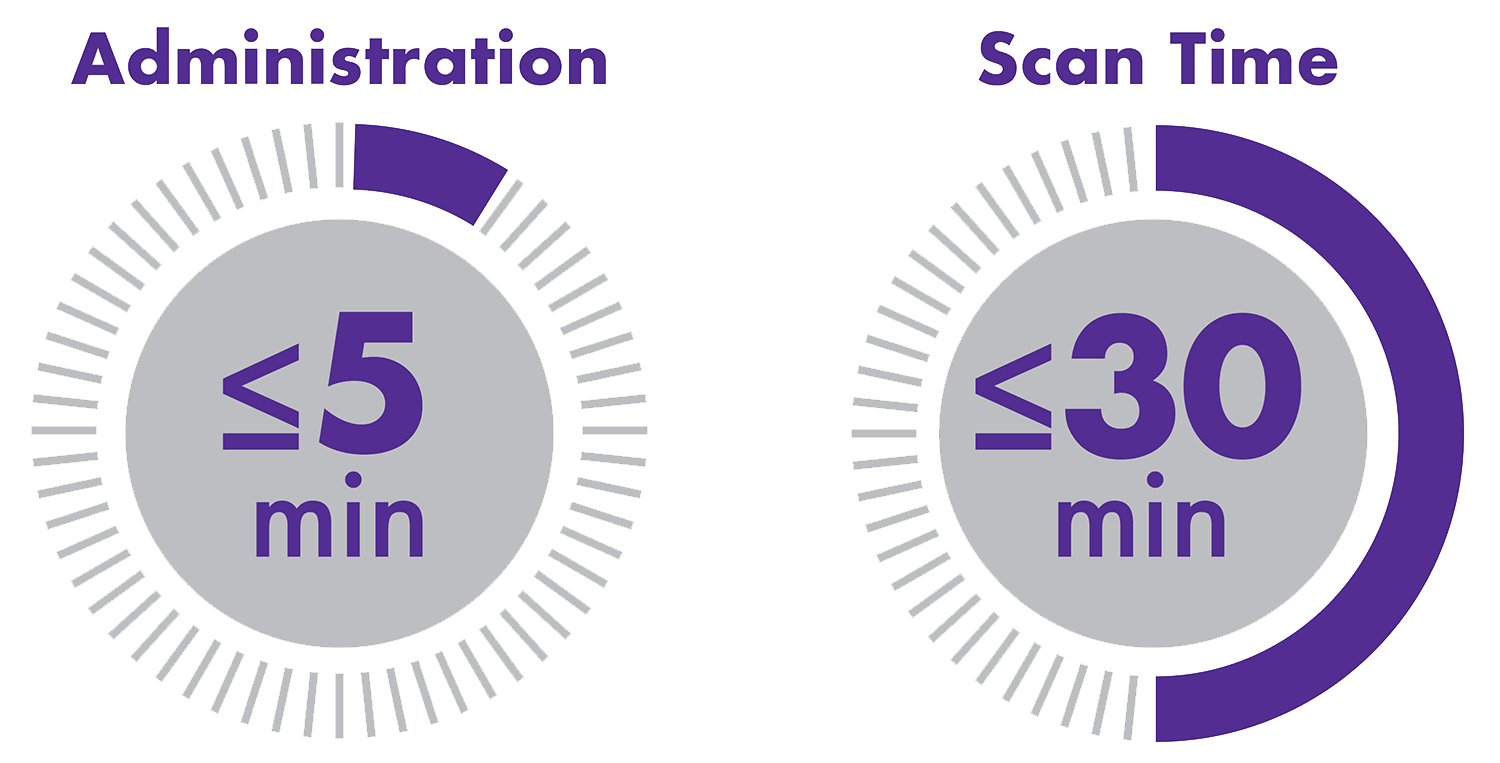 Axumin is a radioactive drug and should be handled with appropriate safety measures to minimize radiation exposure during administration. The recommended dose is 370 MBq (10 mCi) administered as an intravenous bolus injection.1
Inspect Axumin visually for particulate matter and discoloration before administration.
Do not use the drug if the solution contains particulate matter or is discolored.
Use aseptic technique and radiation shielding when withdrawing and administering Axumin.
Calculate the necessary volume to administer based on calibration time and date, using a suitably calibrated instrument. The recommended maximum volume of injection of undiluted Axumin is 5 mL. 

Axumin may be diluted with Sodium Chloride Injection, 0.9%.

Injection into the right arm is preferred as stasis in the left axillary vein may be misinterpreted as a metastatic lymph node (Virchow's node). If the right arm cannot be used, beware of the possibility of image interpretation error.
After the Axumin injection, administer an intravenous flush of sterile Sodium Chloride Injection, 0.9% to ensure full delivery of the dose.
Dispose of any unused drug in a safe manner in compliance with applicable regulations.
Patient Preparation Prior to PET/CT Imaging: Advise the patient to avoid any significant exercise for at least one day prior to PET/CT imaging, do not eat or drink for at least four hours (other than sips of water for taking medications) prior to administration of Axumin, and void approximately 30 minutes to 60 minutes before injection of Axumin and then refrain from voiding until after the scan has been completed.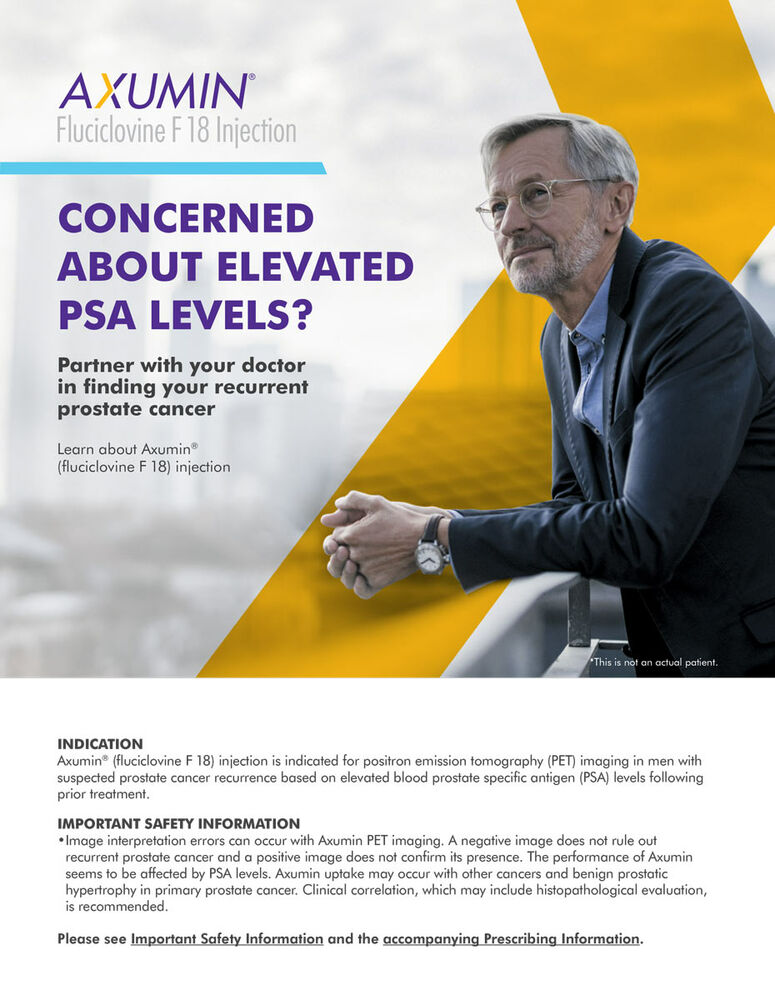 Position the patient supine with arms above the head.1 If the patient cannot tolerate this position for the duration of the study, an alternate position for the patient's arms may be used. 
Begin PET scanning 3 to 5 minutes after completion of the Axumin injection.1 Following intravenous administration, the tumor-to-normal tissue contrast is highest between 4 and 10 minutes after injection with a 61% reduction in mean tumor uptake at 90 minutes after injection.1
If scanning is started early, the biodistribution may be altered (e.g., increased blood pool) and this should be taken into account during image interpretation.1
If scanning is started late, the biodistribution may be altered (e.g., increased muscle uptake) and this should be taken into account during image interpretation.1
High quality CT acquisition for anatomic correlation and attenuation correction is recommended. It is recommended that image acquisition should start from mid-thigh and proceed to the base of the skull.1 Typical total scan time is between 20 to 30 minutes.1 Identification of tumor location is based on fluciclovine F 18 uptake in comparison with tissue background. For larger lesions (≥1 cm), uptake equal to or greater than bone marrow is considered suspicious for prostate cancer recurrence. For small lesions (<1 cm), focal uptake greater than blood pool should be considered suspicious for prostate cancer recurrence.1
Image Interpretation Training
Reference:
Axumin [package insert]. Oxford, UK: Blue Earth Diagnostics Ltd; May 2021.